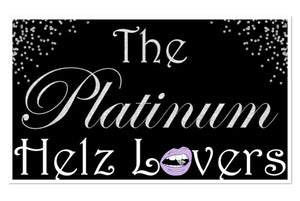 Helz Shelz Ltd
The Platinum Helz Ltd group monthly subscription. (October 2023)
Regular price
$6.00
$0.00
or make 4 interest-free payments of $1.50 NZD fortnightly with
More info
Tax included.
This subscription fee is for the ultimate supporters of Helz Ltd! 
This is your backstage vip pass to Helz Ltd...
Get early access to specials, pre releases, at least one platinum special every month, behind the scenes photos and even lives if we end up with enough people! 


To join the f**kery is simple... all you have to do is:
1) Pay this subscription 
2) Note down your order number
3) Go to Facebook and find the Platinum Helz Lovers group ➡️ https://www.facebook.com/groups/776702112877665/?ref=share_group_link&exp=93fa
4) Put your order number in the questions
5) Just sit back and wait for your information to be checked, and you'll be let in.
6) If you like it in there, all you need to do is make your monthly payment to stay there.
*Note: Subscription to be paid monthly, do not add more than one month to your cart.
*Group admissions will be done on workdays only. 

*We have a right to refund and refuse entry to anyone for anything within reason, and you will be notified. 
---