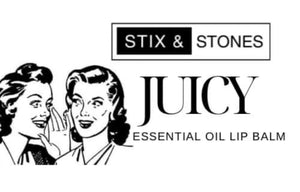 Helz Ltd
JUICY- 169% Pure Essential Oil Lip Balm
Regular price
$9.00
$0.00
or make 4 interest-free payments of $2.25 NZD fortnightly with
More info
Tax included.
Treat your lips right with our 169% natural lip balm!
With our unique blend of natural ingredients and 100% pure essential oils, this lip balm will not only nourish your lips, it also comes with loads of potential added benefits!


• Pink Grapefruit ~ The reviving scent of Pink Grapefruit oil helps uplift and refresh the mind, sharpen the senses and promote alertness.
•Mandarin  ~ Mandarin essential oil has powerful properties: calming, relaxing, antispasmodic, circulatory, slightly antiseptic and anti-fungal. It is also effective in digestion-related problems (slow digestion, bloating, colic, etc
• Tangerine ~ Has a calming effect and can be used to target tired or tense muscles, it is also used to help aid in restful sleep.
---